---
UTMIST is hosting an Information Session and ML Career Panel on Saturday, July 10th, from 11 am to 12:30 pm on Zoom. This event is designed for those interested in joining UTMIST, as well as those hoping to explore careers related to artificial intelligence and machine learning.
During the information session, we will be sharing with you more about our initiatives and team openings.
In the career panel, we invited several UofT alumni and upper-years to provide their advice on questions that you might have related to research, internships, and education paths related to machine learning.
Event Details
About the Panelists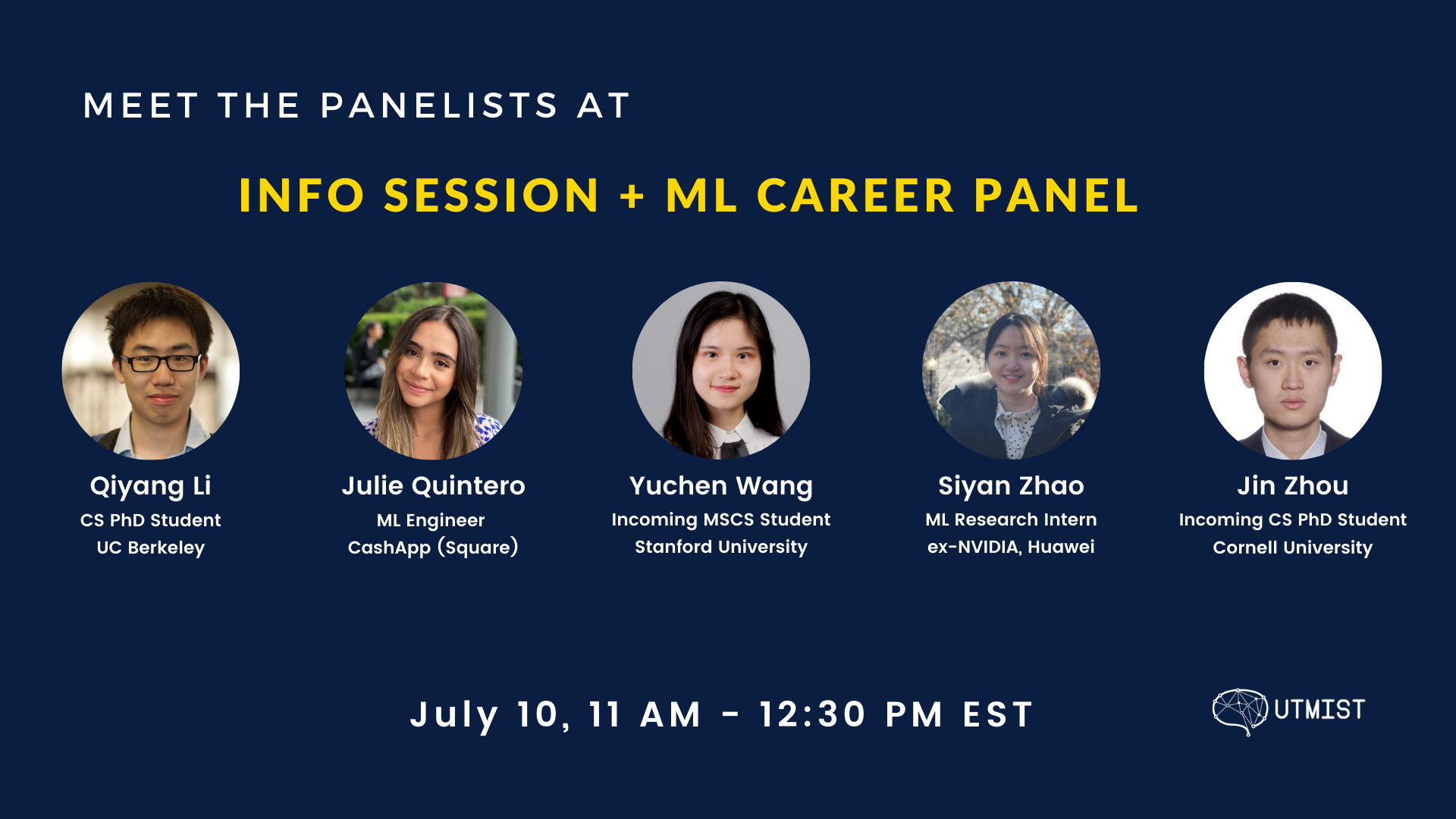 Qiyang (Colin) Li was one of our co-founders and second President at UTMIST. He's a PhD student at the University of California Berkeley, where his research focuses on reinforcement learning.
Julie Quintero is a recent graduate from UofT, specializing in computer science with a focus in artificial intelligence. Previously, she was a data engineer and software engineer intern in several financial technology companies in Toronto. She's now working as a machine learning engineer at CashApp (Square).
Yuchen Wang graduated from UofT majoring in computer science and statistics. A researcher in machine learning, she is continuing her studies in an MSCS degree at Stanford University.
Siyan Zhao is a rising fourth-year Engineering Science student, majoring in machine intelligence. Previously, she interned at NVIDIA, where she worked on self-driving planning. She is now working on self-driving perception at Huawei's Noah's Ark Lab for her Professional Experience Year (PEY) internship.
Jin Zhou is a recent graduate in Engineering Science (machine intelligence). He previously interned at Layer6 AI, where he conducted research on a recommendation system. He will be attending Cornell University this fall to pursue a PhD degree in computer science. His interests include mathematical reasoning with machine learning and machine learning security.
---
Agenda
| Time | Event |
| --- | --- |
| 11:00 - 11:30 am | UTMIST Recruitment Info Session |
| 11:30 - 12:30 pm | ML Career Panelist Discussion |