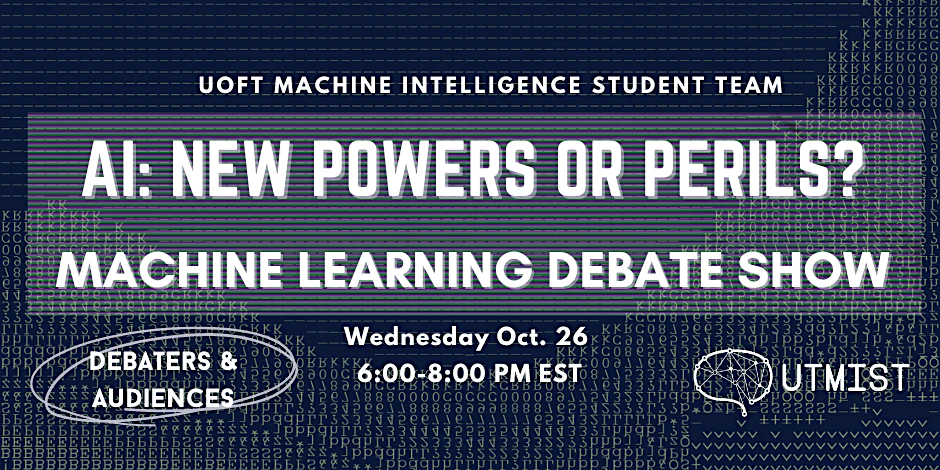 "AI: New Powers or Perils" is UTMIST's first-ever Machine Learning debate show that aims to showcase argumentative discussions on AI Ethics. Although the media constantly displays how AI solutions facilitate human's lives, controversial topics such as AI's potential impact on employability, privacy, security and overall well being of humanity have been under question repeatedly. In this event, we would be showcasing one such topic, through a "3V3" debate, where 6 debaters would have a platform to voice their stance on a chosen motion.
⭐️ Why should you join?
🏅Each debaters would be provided with a 20 CAD gift card for their participation 🤩! So whether your team wins or not every debaters gets to take a prize for their commitment! Furthermore get a chance to network and work with likeminded ML enthusiast on a crucial topic that affects everyone in this futuristic world.
💰The audience would get a chance to judge the arguments of the debaters and also participate by voicing their verdict through a poll! In our end of the event raffle draw 3 lucky audience would get a 10 CAD gift card and UTMIST Merch!
👨‍🏫We have ~ML/AI professionals joining us as Keynote Speakers and Judges! They would be sharing their valuable, novel opinions at the frontier of Machine Learning and Artificial intelligence applied in the real world!
For both debaters and audiences, please register here for this fun event!
Registration Link: https://www.eventbrite.ca/e/open-source-ml-with-tensorflow-hub-tickets-461583607997?aff=Discord
Event Details
When: October 26, 6:00 PM – 8:00 PM(EST).
Where: Galbraith Building, GB303 Toronto, ON M5S 1A4
Debate Judges
Denya Linkov
Willie Costello